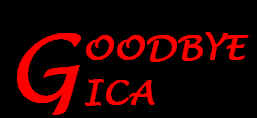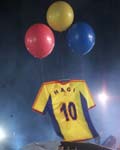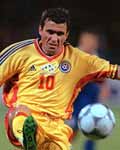 Romania's gift to world football, one of the best players ever came on earth, Gheorghe Hagi, worn the national player shirt for the last time at his magnificent gala...

Hearts of 65 thousand people who filled the National Stadium and millions of other who were not able to go to the stadium were beating with "Hagi Love" at that night.A star is about to say goodbye but Hagi will always be unforgettable with his incredible talent, good character, ambition, hardwork, amazing free-kicks, long-shots....He will be apart from football as a player but he will always be in the hearts of millions...
Hagi said "I lived many unforgettable moments full of happiness in National Stadium.I hope these will continue at the following years when I become a coach."
Hagi couldn't hide his tears when he came to the stadium and heard 65,000 people calling his name...
The athmosphere at the stadium was fascinating...Songs were played, 3D laser shows and firework shows were made and important moments from Hagi's career was shown in a huge screen before the match...And the last 90 minutes which Hagi has worn number 10 national team shirt, started with the national anthem sang by Hagi's little daughter Chira...
1.5 million dollar revenue obtained from the gala were granted to homeless children of Constanta where Hagi grew up...Apart from this, Hagi paid 12,000 dollars for 2000 tickets he bought from the Romanian Football Federation...
Romania laments after Hagi... Prosport gave place to Hagi's gala under the heading "We will die from your longing". Libertapea used the heading "Words are not Enough to Thank You Gica Hagi" in the first and "End of the Dream" in the second page...Eveni Mentazileyi : "Our National Team is now left 10 players out of 11. Goodbye Hagi..." Reuters: "Hagi is a Living Legend"...
Romanian Postal Service printed special stamps for him...
Turkish people didn't leave Hagi alone also...There was a Turkish Flag and a pancard which "Hagi, we are really proud of you" writes on...
One of the coaches of World XI Fatih Terim, who worked with Hagi for 4 years, said that "Hagi deserves such a magnificent gala.His fame is worlwide...He is a very talented player...We had many good days throughout 4 years at Galatasaray.When we look back there is nothing bad..."
Hagi said "I returned a bit tired but very happy.My gala was perfect.It was one of the best memories of my life.I want Galatasaray to be the champions, thats why I came back from Romania immediately."

ROMANIA - WORLD XI : 2 - 2

COACHES: Mircea Lucescu, Emerich Jenei, Gabi Balint (ROMANIA) - Fatih Terim, Radomir Antic, Hugo Sanches, (WORLD XI)

REFEREES: Lon Craciunescu, Nikolas Grigorescu, Vasile Avram (Romania)

ROMANIA: HAGI, Bodan, Petrescu, Popescu, Filipescu, Ovidiu,Dorinel (60 Rotariu), Costel, Tibor, Christian , Moldovan

WORLD XI: Taffarel (46 Dida),Chendo, Bülent Korkmaz, Karhan, Dunga (20 Tugay),Okan (73 Detari), Burtragueno, Prosinecki (50 Arif), Rossi (80 Faruk), Di Paulo (28 Suat), Hakan Şükür (53 Pjanovich)
GOALS: (20) Moldovan, (62) Rotariu (Romania), (48) Okan , (54) Pjanovich (World XI)
[Gheorghe Hagi] [Career] [News] [Photo Gallery] [Interviews & Articles] [What Gica Says]
[Message Board] [Polls] [Quiz] [Links] [Contact us]