HAGI SAYS GOODBYE WITH A MAGNIFICENT GALA
Hagi's player shirt has been sold for 30,000 dollars at the auction!
Thank you CimBom, Thank You Hagi
HAGI GETS 6 MATCH BAN !
Turkish FA's disciplinary committee has banned Hagi for 6 matches due to the events took place in the match against Genclerbirligi.
Just after the match, Hagi declared that he is sorry about his behavior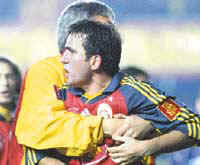 but his mind is still the same about the referee saying "This referee is a thief. He tried to stole points from us but we didn't let.I even don't want to call this person a "referee". He is an ordinary man for me but absolutely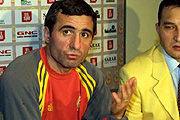 not a "referee".Some people don't want us to be the champion.If they want it that much we can give it as a gift."
Gica will not be able to play for the following 6 matches:
Siirt Jetpaspor - Galatasaray 0 - 1
Galatasaray - Besiktas 0 - 2
Yimpas Yozgatspor - Galatasaray 4 - 2
Istanbulspor - Galatasaray 3 - 5
Galatasaray - Antalyaspor 2 - 0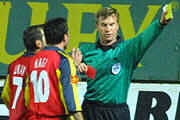 Caykur Rizespor - Galatasaray 2 - 4
---
HAGI'S GALA MATCH
Hagi will directly fly to Bucharest after the match against Real Madrid and will make the final preperations for his Gala Match.
Worldwide stars, mainly from Hagi's former clubs Real Madrid, Barcelona and Brescia and players from his latest club Galatasaray, are invited to the gala match of Hagi .World XI consists of players like Claudio Taffaarel, Roberto Carlos, Hiero, Sergi, Amor, Stoickov, Emre Belözoglu, Tugay Kerimoglu, Luis Figo, Roberto Baggio, Mario Jardel, Romario, Maldini...The coaches are Fatih Terim, Johann Cruyff, Radomir Antic...
Romanian XI will mainly consist of the team of World Cup 94.Stelea, Lobont, Dan Petrescu, Belodedici, Prodan, Mihali, Dorinel Munteanu, Chivu, Selymes, Filipescu, Balint, Ilie Dumitrescu, Sabau, Gica Popescu, Lupescu, Lacatus, Adrian Ilie, Viorel Moldovan, Raducioiu and Mutu are the players.And Lucescu is one of the coaches.The referee is Pierluigi Collina from Italy.
In addition, some important names from world football like Pele, Joseph Blatter, Lennart Johansson, Franz Beckenbauer, Michel Platini, Giacinto Facchetti, Roger Milla, Del Piero, Maldini ve Laurent Blanc are also invited.Maradona is not invited because of the sensations he experienced in his private life.`I decided to drop Diego from the list of my guests although he was one of the best players in history.I wanted to avoid a possible problem as I also invited Pele.` Hagi told Reuters by telephone from Turkey.
See galahagi.ro for further details... (The site is in Romanian.)
Read related onefootball.com article...
---
Real Madrid 3 : Galatasaray 0
Thank you CimBom, Thank you Hagi !!! For all the happiness you make us experience for several years... You are always the champions...Turkish Champions, UEFA Cup Champions, Super Cup Champions and CHAMPIONS OF OUR HEARTS...WE LOVE YOU CIMBOM! WE LOVE YOU HAGI!
We will come back ! :)
---
HAGI'S SHIRT HAS BEEN SOLD FOR 30,000 DOLLARS AT THE AUCTION!!
Hagi's National Team player shirt which he will wear for the last time at his gala match has been sold for 30,000 dollars auction.Rapid Bucharest stockholder George Copos, who bought the shirt said that "Hagi is the legend of Romania and this shirt will be a symbol of the player of the century..."
---
Mario Jardel is not Playing at Hagi's Gala
Galatasaray player Mario Jardel won't play at Hagi's Gala...Jardel was expected to go to Bucharest with his team-mates to play at the gala but he unexpectedly went to Portugal instead...Poor Jardel you missed the chance to experience that honor Gica presented to you...
---
[Gheorghe Hagi] [Career] [News] [Photo Gallery] [Interviews & Articles] [What Gica Says]
[Message Board] [Polls] [Quiz] [Links] [Contact us] [Home]